From a college lover boy to the serious senior cricketer, Shahid Kapoor has pulled off every character very well. His looks in the films have also been changed drastically which is loved by his fans and followers. You might have loved these looks, but never dared to try them. This time you gotta try these Shahid Kapoor Hairstyles in Different Movies. (Cuz you can't stay behind in the fashion trend), right?
Cute Messy Hairstyle
Shahid was sporting a cute messy hair look in his debut film 'Ishq Vishk' (2003). He had small hair with three-four fringes adding more cuteness to his look. His clean-shaven look made his college boy look more interesting. His boy next door look was loved by everyone, and he carried the same look in his few next films.
Professional Layered Hairstyle
Shahid Kapoor changed his look in the 2007 film 'Jab We Met' in which he was seen playing a serious businessman role. He had long hair in the film which was combed back with a side partition. He kept the clean shave look in this film as well.
Bangs Hairstyle
He maintained his cute lover boy image in the 'Kismat Konnection' (2008) in which he played the role of Raj Malhotra. He had long hair in the film with front bangs which looked quite adorable.
Asymmetrical Fringes Hairstyle
Shahid Kapoor surprised his fans with his rough and tough look in the 2009 film 'Kaminey.' Talking about his hairstyle, he had long layered hair with long front bangs. In some of his scenes, his wet hair look and light beard added to his tuff look.
Air Force Personnel Hairstyle
In 2011, he appeared in the Hindi film Mausam. He played the role of Squadron Leader Harinder "Harry" Singh. His hair was kept very short in the film to justify his squadron leader look.
Zero Hair Cut 
Shahid broke his lover boy image in the film 'Haider' with his strong performance in the film. He had zero haircut in the film with a full beard. His performance and look in the film were well appreciated by the audience.
Long Colored Messy Hairstyle
Tommy Singh from the Hindi film 'Udta Punjab' (2016) not only gained popularity for his acting skills but also for his cool hairstyle. Shahid Kapoor had faded sides with a pony in a few scenes of the film which was loved by the audience. The look became very popular and many Indian men copied the look.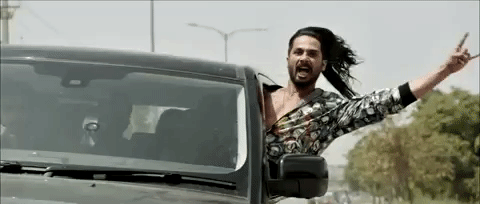 Short Hair Hairstyle
He sported small hair look for the film 'Rangoon' (2017). His officer-look with a clean mustache completed the look of his character in the film. This hairstyle is one of the best hairstyles for the summer.
Cool Dude Messy Hairstyle
One of the most popular looks in his films is the Kabir Singh look. The cool messy volume of hair with a dark long beard look became very famous among Indian men in 2019.
One-Sided Combed Hairstyle
One of his which is a must-try hairstyles is one-sided faded hair with a long hair combed to one side. The hairstyle looks quite trendy and cool. There are rumors that he will spot this look in his upcoming film 'Bloody Daddy.'
Shahid Kapoor Hairstyles in Different Movies: you just checked 'em. So, what do you think which one is your favorite that you will try now? 
Comment and do leave your reaction on the blog…
RELATED READ:
How would you "React" on this Content?